THE ALL NEW QUICK CONNECT MOUNTING SYSTEM
FIND YOUR PERFECT FIT
Use our holster finder to quickly find EDC gear for popular makes and models for Glock, CZ, SIG Sauer, Smith & Wesson, Springfield Armory, Ruger, and more!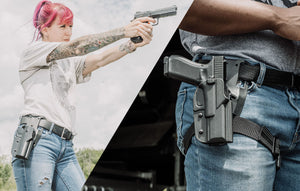 Everyday Carry Holsters, Mag Pouches and Tactical Gear
AMERICAN HOLSTERS MADE IN OHIO
The best IWB and OWB Gun Holsters are made right here in the USA. Whether you conceal carry or open carry our EDC gear has you covered. We offer fast shipping and a lifetime warranty on our American made holsters, mag pouches, and accessories.
Shop Now
Have Questions?
If you have any questions regarding our holsters, mag pouches, or gun belts our customer service support team is standing by to assist you.
Toll-free: (877) 331-5793
Direct: (440) 782-0217
Mon-Fri: 8:00am - 4:30pm EST
Sat-Sun: Closed
Blade-Tech Holsters
10125 Wellman Road
Streetsboro, OH 44241